Emeritus hoogleraar Onderwijskunde Larry Cuban heeft een aantal fraaie cartoons over smartphone verslaving op zijn weblog gepubliceerd.
Smartphones zijn fantastische apparaten, maar een overdadig gebruik ervan heeft negatieve gevolgen voor werken, leren en voor ons sociale leven. De cartoons die Cuban presenteert, onderstrepen met name de negatieve gevolgen.
Ik weet dat jij als lezer waarschijnlijk niet op de link naar Cuban's blog klikt, maar ik raad je toch aan dat te doen. Ik publiceer de cartoons hier namelijk niet omdat dat niet mag zonder expliciete toestemming van de maker of van de uitgever. En er zitten echt leuke bij.
Maar wacht eens even. Zou DALL.E in staat zijn een cartoon over smartphones te maken? Ik heb deze generatieve AI-toepassing daarom de opdracht gegeven: A 3D render of a cartoon about addiction to smartphones in the style of Liam Walsh of the New Yorker, digital art. Dit is het resultaat: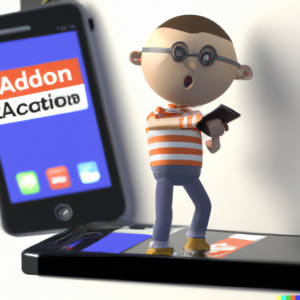 Cartoonisten hebben nog weinig te vrezen van DALL.E…..
This content is published under the Attribution 3.0 Unported license.