Ik geef om internetvrijheid en steun daarom @bitsoffreedom. Jij ook?
Bits of Freedom wil vandaag 500 nieuwe donateurs vinden. Als donateur van Bits of Freedom kreeg ik het verzoek de aankondiging van deze dag te verspreiden. Dat doe ik met genoegen.
Vrijdag 9 juni organiseren we een 12-uur-durende "web-in" om aandacht te vragen voor ons werk én om 500 nieuwe donateurs te vinden. Bekijk hier het volledige programma.. We hebben het met onze (24!) gasten over alles dat mooi is aan het internet, en óók over WannaCry en filterbubbels, Facebookcensuur en datadiscriminatie.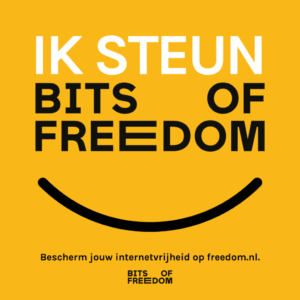 Bekijk hier het volledige programma, en verspreid de boodschap.
1. Nodig je omgeving uit donateur te worden. Je krijgt ook een meekijkvrij e-mailaccount (@freedom.nl).
2. Betuig je steun (bijvoorbeeld via sociale media).
3. Spread the word (o.a. door er over te bloggen).
This content is published under the Attribution 3.0 Unported license.