De 29ste editie van de Online Educa vindt dit jaar plaats van 22 tot en met 24 november 2023, uiteraard in Berlijn. De keynote sprekers zijn inmiddels bekend.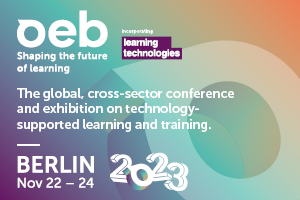 Een bekende naam bij de keynote sprekers is Eric Sheninger. Hij houdt zich al vele jaren bezig met onderwijsinnovatie en leiderschap. Hij is meerdere keren in mijn blogposts voorgekomen. Een andere interessante spreker lijkt Brent Anders te zijn die onder meer een boek heeft geschreven over 'AI geletterdheid'. Margaret Korosec, decaan Online and Digital Education van de universiteit van Leeds zal spreken over Creating an Ecosystem of Design. Ik heb haar een paar jaar geleden mogen ontmoeten in Berlijn. Andere keynote sprekers vind je hier.
De komende tijd wordt bekend welke workshops verzorgd zullen worden. Indieners van voorstellen krijgen rond 30 augustus bericht.
Meer informatie: https://oeb.global/conference.
Wanneer: 22-24 november 2023
Waar: Hotel InterContinental Berlin, Budapester Str. 2, 10787 Berlijn, Duitsland
Web: https://oeb.global
Registreren: https://oeb.global/participation
This content is published under the Attribution 3.0 Unported license.