Gisteren heeft de organisatie van de OEB het thema van editie 2019 bekend gemaakt. Tevens kun je vanaf nu tot en met 30 april a.s. een voorstel voor een bijdrage indienen. De conferentie zelf vindt van 27 t/m 29 november 2019 in Berlijn plaats.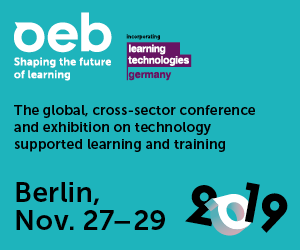 De OEB (voorheen: Online Educa Berlin) is waarschijnlijk de meest internationale, omvangrijke, conferentie over leren en leertechnologie waar zowel onderwijs, overheid, non-profitsector en bedrijfsleven aanwezig zijn. Als je mij al langer volgt, dan weet je dat ik hier -als het even kan- altijd naar toe ga (sinds 2003).
De organisatie van de OEB stelt dat we leren opnieuw moeten ontdekken, in een tijd waarin automatisering en kunstmatige intelligentie een steeds grotere rol gaan spelen:
Learning is going to become a much more important part of our lives. At the same time, adaptive learning, personalisation and developments in analytics are pushing the boundaries of what is possible for learners. We need to come to terms with the fact that lifelong learning is no longer going to be some sort of luxury accessory for affluent societies. It is going to be fundamental. It will be at the heart of our existence.
Het thema van dit jaar is daarom Discovering Learning. De organisatie voorziet nieuwe manieren van leren, mede als gevolg van nieuwe technologieën.
De subthema's zijn dit jaar:
"Frictionless" digitaal leren: lerenden aanzetten tot actie
Nieuwe rollen en competenties van leerkrachten, L&D-teams en partners
In ontwikkeling zijnde leertechnologieën: EdTech en digitale transformatie
Inhoud, kennis en geest
Verzamelen, beschermen en meten van belangrijke data
Het dichten van de vaardigheidskloof met leren en opleiding
De nieuwe thuisbasis van het leren: operational excellence, ruimtes, ecosystemen
Meer informatie?
Een conferentievoorstel indienen?
Disclaimer: ik ben (onbezoldigd) lid van de adviesraad van de OEB. Ik ben (onbezoldigd) redactielid van e-learning.nl. E-learning.nl is mediapartner van de OEB.
This content is published under the Attribution 3.0 Unported license.