Dit jaar vindt de Online Educa Berlijn na de Sinterklaas plaats, en wel van 6-8 december 2017. Ik zal er weer bij zijn. Inmiddels zijn de thema's en subthema's bekend, net als de eerste sprekers. Je kunt ook een voorstel indienen voor een sessie.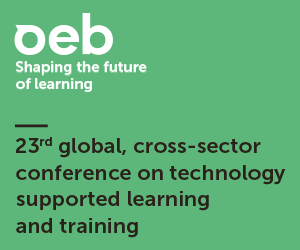 Het centrale thema van dit jaar is leren in tijden van onzekerheid. Volgens de organisatie gaat het om zekerheid erkennen en je er op voorbereiden. Onzekerheid is van alle tijden, stelt men in de factsheet (pdf), maar de huidige onzekerheid is anders.
We are facing the end of stability. Are we ready for this new era? Are businesses,
governments and societies really prepared for our uncertain future?
De conferentiethema's zijn:
Adapting for Action
Collaborating to Compete
Redefining Learning Technology
Designing to Engage
Enhancing New Skills Learning
Made to Measure Learning
De eerste sprekers zijn ook bekend. Zo zullen Aleks Krotoski (sociaal psycholoog en werkzaam bij The Guerdian), Sanja Sarma (vice-president open learning van het MIT), Abigail Trafford (auteur en leider van de Amerikaanse Movement to Fight Ageism) en Marc Prensky spreken tijdens de plenaire sessies.
De laatste spreker vind ik een opvallende. Meer dan tien jaar geleden heeft Prensky het onderwijsveld het hoofd op hol gebracht met zijn verhaal over de digital native die in staat zou zijn te multitasken. Al snel bleek dat een mythe te zijn. Maar wel een hardnekkige mythe. Ik ben benieuwd wat Marc Prensky nu te melden heeft, en verwacht een meer kritische ontvangst. Wellicht neemt hij wel deel aan het befaamde Online Educa Debate.
Wil je zelf spreken? Kijk dan naar de subthema's en naar de formats. Een proposal insturen kan via een online formulier.
Ik kijk als trouw bezoeker weer uit naar deze conferentie.
Disclaimer: ik maak deel uit van de advisory board van de Online Educa Berlijn. Dat betekent dat ik suggesties doe voor onderwerpen en sprekers, dat ik gevraagd kan worden om een sessie voor te zitten en dat ik fungeer als een soort ambassadeur van de OEB. Het is een onbezoldigde functie. Als onbezoldigd lid van de redactie van e-learning.nl krijg ik meestal een perskaart voor de Online Educa Berlijn.
This content is published under the Attribution 3.0 Unported license.