Hoe zullen we leren van leren te houden? Dit is geen 'flower power'-vraag, maar een cruciale kwestie in een tijd waarin leren en ontwikkelen een centraal onderdeel vormen van ons leven. Tevens is dit het centrale thema van editie 2018 van de Online Educa Berlijn die van 5 tot en met 7 december dit jaar plaatsvindt. Je kunt nu ook een voorstel voor een sessie indienen.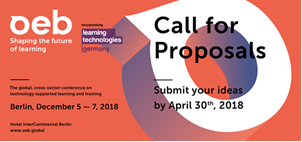 De Online Educa Berlijn vindt weer plaats in het Intercontinental Hotel, vlak bij de Gedächtniskirche. De kans is zeer groot dat ik er weer bij ben.
Behalve het hoofdthema 'Learning to Love Learning' zijn ook de thema's bekend gemaakt op basis waarvan je voorstellen in kunt dienen (deadline: 30 april 2018).
Instilling curiosity
Nieuwsgierigheid is de kern van het leren. Hoe kunnen we leren creëren dat aantrekkelijk is?
Dynamic learning, training and future-oriented skills
Hoe kunnen we ons focussen op lerenden en mensen centraal stellen in verandering?
Nascent technologies to change learning
Hierbij gaat het om sessies rond om innovatieve en slimme technologieën voor leren.
Developing learning professionals' skills and implementing complex change
Deze sessies gaan over hoe leerprofessionals technologieën kunnen gebruiken om continue leerculturen binnen hun werkomgeving te ontwikkelen, te testen en in stand te houden.
Measurable results and data collection pay-offs
Meten we wat we waarderen en waarderen wat we meten?
Verder zijn de formats bekend:
Workshops en activiteiten
Spotlight Stage
Learning and World Cafés
Panel Discussions
Penel Presentations
Unconference Sessions and Fishbowls
Knowledge Factories
Tech Labs
Boardroom Dialogues
Discovery Demos
Uiteraard zijn er ook plenaire sessies en het befaamde Online Educa Debat. Pre-conferences vinden voorafgaand aan de officiële opening plaats.
Bekijk ook highlights van 2017.
This content is published under the Attribution 3.0 Unported license.